We at Graphixsigns…
…are a small but well established sign company based in Barrow in Furness, Cumbria. I Established the company in 1994 and was joined by my son and co director Lee when he left school. Since its formation the company has continued to grow and boasts many blue chip clients including British Gas, Centrica, Spirit Energy, Tesco. Mcdonalds, Sita, Dong Energy, Orsted, NHS, James Fisher, Many schools and colleges… plus many more.
We provide a full range of sign making services including but not limited to those shown below. Please call with any enquiry no matter how big, small, simple or complex, we will always do our best to meet your requirments.

GraphixAudioVisual is the sister company offering a range of services in theh AV sector. Please use the link in the services section to view the GraphixAudioVisual web site for more information.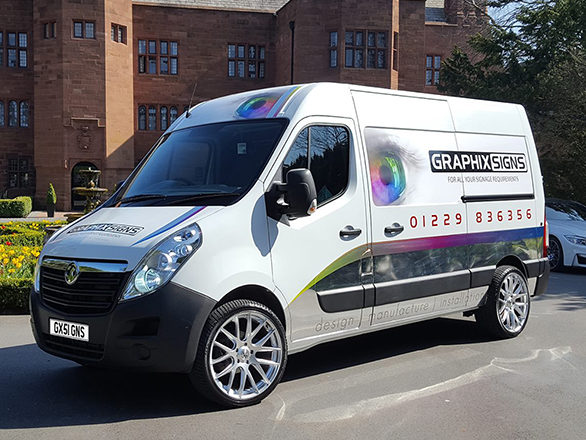 Self Adhesive Vinyl Lettering
Basic lettering and shapes produced using CAD Cut technology plotter capacity up to 1580mm high.

Digital Printing
Digitally printed self adhesive vinyl, max print height 1580mm. Printed images and graphics can be CAD CUT. Materials include standard white gloss vinyl, certain simulated window frost films, metallic polyester films, vehicle wrapping.

Pub Signs
Pub signs with a traditional feel manufactured from modern materials reducing maintenance requirements.

Safety Signs
Safety signs available as rigid or self adhesive, bespoke configurations for site boards and location specific requirements.

Magnetic Signs
Magnetic signs suitable for vehicles that need not be permanently marked. Can be digitally printed.

Vehicle Window Tinting
Vehicle window tinting, various shade available normally for cosmetic purposes.Flat glass filming for cosmetic, solar control, and privacy, including mirror films frosting, manifestation graphics. Advertising graphics.

Rotary and laser Engraving
Engraving of industrial, Commercial,
Commemorative signs, plaques and trophies

Trophy Sales
Wide range of trophies, shields and plaques available for all
sports and achievments

GraphixAudioVisual
From the supply of the smallest piece of AV equipment to event production, aimed at but not limited to conference and awards ceramonies. Dry hire of equipment for self operation also available

3D Printing
3D print capability with a max dimension of length 330mm width 240mm height 300mm

We can print from your 3D files or we can design parts if required.

Great for prototypes, Model parts, One off parts, Hard to find repair parts.
Get in touch if you want to know more
Want to know more about the service we offer? Want to get a quote for some printing you need doing? Why don't you get in touch and a member of our team will be happy to help.
Contact Us Now